A project by No Boundaries e.V. and the University of Michigan in cooperation with Gangway e.V. and the Prison Creative Arts Project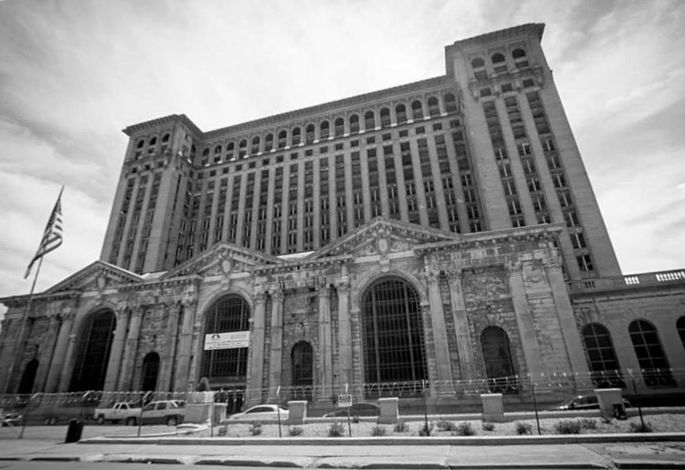 Rhythm and musicality of poetry, their oral origin and their close connection to song was often part of the social fabric. These performative characteristics make poetry very attractive for performance events while it can be an enormous challenge to transfer its content to another language and culture. Cities worldwide have seen a renaissance of live poetry readings and performances, accompanied by increased interests in digital forms and methods of networking on a global scale.
Be-troit Performance Poetry. A project between Detroit and Berlin is an international exchange literature project between the cities of Detroit and Berlin with a focus on contemporary performance poetry. It takes up impulses of poetry, Spoken Word, Slam Poetry and Rap from Detroit and Berlin. Building on specific local traditions these art forms mix literature, music, dance and visual arts. The numerous events in Detroit are combining Spoken Word and HipHop, improvisation and freestyle: beatboxers, poets, competitive battles and DJs support the performing poets.
Be-troit takes up the variety of styles, trends and genres within the contemporary poetry scene of Detroit as an impulse for Berlin where an internationally connected, active poetry-, Spoken Word- and HipHop-Scene has developed as well. The project initiates active poetic encounters of up and coming , as well as established artists from Detroit and Berlin. Styles of performance poetry from Detroit connect with and confront current trends and developments within the German speaking poetry scene, generating new forms of literature in the process.
The project initiates active poetic encounters of young and established artists of different generations from the United States and Germany. It is the coming together of current trends from Detroit and the most recent progressions taking place in Germany that will stimulate new lyrical texts, which will be made publicly accessible for audiences in Detroit and Berlin. The focus is on reconfigurations and contextualization, language games and the interpretation of signs and language in the transfer process of transformation – accordingly a core component of the project will be translation workshops.
This staged exchange process wants to pick up on previous lessons learned within the framework of European-U.S. American cultural exchange projects as an impulse in order to make them more tangible through the process of translation: translation is the very experience, most people in today's world everywhere are making all of the time. International trade relations, migration, travel, media and private communications mark our present age. World affairs can be considered as a permanent series of decoding and in the literal sense as "trans-lation" across rivers, seas and borders. Global migration forces us all to discard and arrive anew. But once the river has been crossed both banks will have been changed, discarding creates a whirlwind, arriving does too. The project aims to reconsider the notion of translation and take it further: Translation as a cultural stimulus, as an attitude to deal with the other, the stranger and ones self.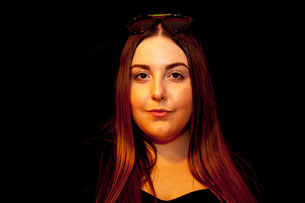 Vanessa gentile is a singer/song writer. She writes her own lyrics in German and has worked for and with a variety of German MC´s. Currently she is collaborating with "Azad" on a feature called "Weltbild". She is also currently collaborating with two producers on a project  called "Schatten und Helden". She has facilitated many workshops for kids and youths. She is a full-time musician with additional skills in graphic design and video editing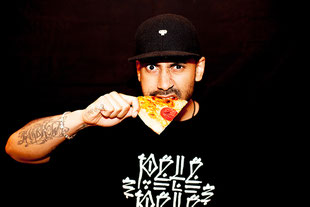 Gigo Flow of "Gitta Spitta" is an MC and initiator of "Spuck auf Rechts", a country wide network of MC´s writing lyrics and making videos positioning themselves against the far right. In addition to his work as a lyricist he is also active a media designer and as such he has worked with a number of of artists over the years.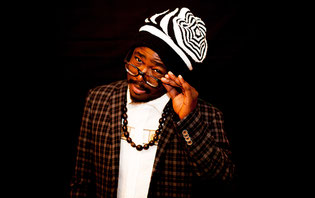 Over the last decade, the art of serious Hip Hop lyricism and skill has steadily risen around the globe. One of the places where it has flourished is Germany, particularly Berlin. In a global village where non-American emcees spit multi-syllabic entendres in several languages, Berlin has produced some of the nastiest. At the top of that pile might be MC Diamondog who, at last count, could not only rhyme in Portuguese (his primary tongue to spit in), but also English and could do so with the rapid fire delivery of Twista… times 10.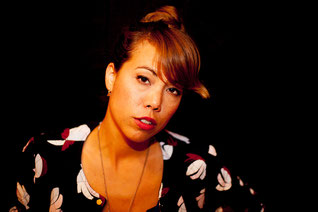 Ninjah is an MC, Singer, Songwriter and self proclaimed Nerd from Berlin with Japanese roots. She has ben active since the year 2000 and is currently working on a number of projects.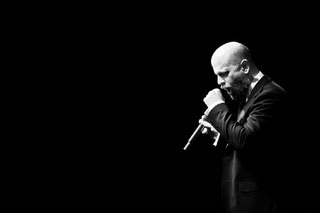 Dalibor Marković. Poet.
Born and raised in Frankfurt am Main, Germany, with a croatian cultural background. As a child he discovered his ability to create sounds and rhythms with only his mouth - the so-called "beatboxing".
During his study of philosophy at the University of Frankfurt, he started performing at "Poetry-Slams", a modern form of competition for upcoming poets. Along with two friends and fellow poets he established the Spoken-Word-Team "WordAlert". In 2010 they were the winning team at the "Zürich Spoken Word Festival".
In 2014 he won the German Poetry Slam Championship in Dresden with the new-formed team called "Team Scheller" along with Dominique Macri.
His work on stage is a collage of dialogues, prosaic inserts and rhythmic poetry, which often embodies the beatbox as a link or break inbetween.
Dalibor Marković lives in Frankfurt am Main.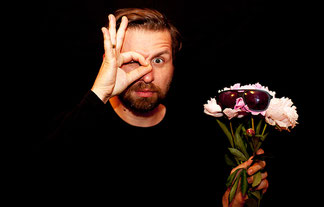 My name is Damion, i am an Mc from Germany born and raised behind the iron curtain on the eastside of Berlin. 
I started making music when i was thirteen,  composed my first beats on an mpc and released my debut l.p. in 2003.
I was influenced by bands like The Beastie Boys and Rage against the Machine, my favorite mcs are Elzhi, Tech N9ne, Daylyt, Nas, Cory Gunz and Asap Rocky.
Since 2004 i have worked in different styles of music from alternative rock to urban beats and also acted in 2 german movies about HipHop.
I got a 6 year old son and i also teach kids from the streets how to write poetry.
i got endless rodes, deadly notes plus some murder mooks
couple heavy chords, strong riffs and nasty grooves
got the killer cam,infrared for the perfect view
and a working crew thats now ready to shoot
sounds painful, but no worries for you
cause the only thing that hurts is the truth
Favorite color: green-purple
Favorite animal: hero turtle
Favorite character in Tv: Steve Urkel
Favorite player: Kyrie Irving
Favorite food: from sweet hershey to beef jerkey
Favorite Country: Greece, Turkey
Favorite Time: 3:30
Favorite last words: "lord have mercy even when its
to late to leave early"
CV will follow shortly....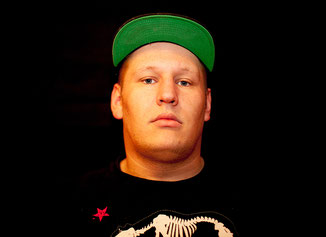 CV reads and i quote...."damaged dude who wastes his time producing and constantly working on beats"...allow me to add....dope beats and awesome productions...as everyone will soon be able to hear on the Be-troit album!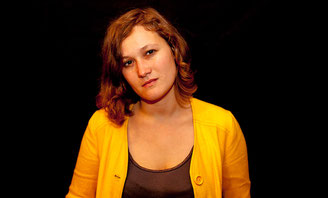 Josefine Berkholz was born in Durham, North Carolina and grew up in Germany. She's a poet and spoken word performer and currently studies creative writing at the German Institute for Literature in Leipzig/Deutsches Literaturinsitut Leipzig. Her spokenword brought her to various places and stages all over Germany and beyond. In 2013/14 she was part of the "Spokenworlds" project, which brought together poets, spokenwordartists and rappers from Berlin and Nairobi for a cross-genre cross-language album and a whole lot of energetic common performances. Which was great.
Doing this and several other collaboration-projects, she fell in love with interdiscipilnary artistic action and writing in and for a collective.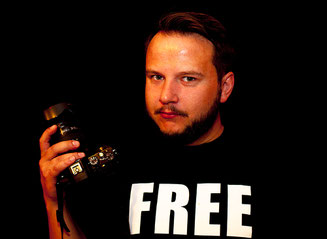 Phillip "Ipp" Halver was born and raised in Berlin. He is a Filmmaker, Producer and Cameraman (music videos, documentary´s and television). He is active as a DJ and Singer (Hip Hop, Gospel, Soul)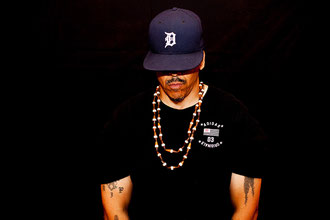 Olad Aden is an African-German-American Street Social Worker based in Berlin, Germany. In this capacity he has initiated and facilitated a number of youth exchange programs like "The BronxBerlinConnection". In addition he co-curated a number of cultural projects. In 2010 he co-curated "Translating Hip Hop" for the House of World Cultures in Berlin. He co-initiated and co-curated "SPOKEN WOR:L:DS", a Literature/Rap project between Berlin and Nairobi for the Literatur Werkstatt-Berlin. He just concluded working on a project called DExZA, a Poetry/Rap/Music performance exchange program between Johannesburg and Berlin for No Boundaries e.V. funded by the Heinrich Böll Foundation/The Goethe Institut and the German Consulate in South Africa. He is currently preparing to travel to Detroit, Michigan with a group of young artists to kick of the Poetry/Rap extravaganza #Be-troit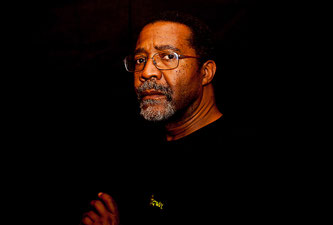 Dr. Larry Gant's  research/practice interests on 'street level' community social work in western style democratic nations led to many visits to Western Europe between 2002-2014.  He secured resources to design the Transnational Intersectional Cultural Learning Community (TICLC) to compare programs, policies and services in youth-related human trafficking, juvenile justice and human migration in the migration hub cities of Detroit, Amsterdam, and Berlin.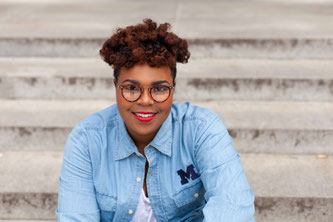 Veniece Session is a Detroit native and recent University of Michigan graduate. She obtained her B.S. in Sound Engineering with a focus in Performing Arts Technology (PAT) and a Minor in Performing Arts Management. During her time at U of M her interests and execution have spanned across the worlds of music, fashion, and art—each equally contributing to her interdisciplinary skill set. Her all around creative talents have lent themselves to live sound, production/artist management, fashion shows, and most recently visual art. She is interested in utilizing her skills in various art mediums to bridge communities together and cultivate creative spaces promoting social justice and the understanding that learning about others. Session firmly believes, that in order to grow, you must continuously ground yourself by reinvesting the knowledge you have acquired back into your community. 
Most recently, she has used her platform to construct her senior thesis #BeBlackBold-- a sonic and visual experience that explores the radical understandings of Blackness, personhood, and overall self-love. Through this project she was inspired to create questions such as: "How is Blackness defined," "How does one own their Blackness," and "How can Blackness be enacted?" She is dedicated to connecting her work surrounding Black visibility across a global diaspora to the belief in love being the greatest force we have to share and use with each other.